What Panther Should Fix: Part Two, Application Installs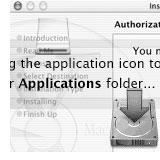 Installing an application in OS X can be startlingly easy, like in the case of Omnigroup products where all you have to do is drag the application to your application folder. Or it can be more complex, involving entering your admin password and going through a multi-step process. Some applications have their own way of doing things and other follow Apple's default installer. Curiously, the beta (I know it is a beta, but still…) of Apple's Safari installs the application on the desktop! All this inconsistency is at best a hassle for the user. At worst it makes for confusion in newer users and betrays the notion of ease-of-use.
Installation issues pale in comparison to un-installation issues. I made the mistake of downloading a demo of Norton utilities for OS X. After it caused a kernel panic, I went through the painful process of trying to get it off my machine. There was no uninstall option in the installer like there often is, so I was stuck with, OS 9 style, going through my library and removing any .kext file that had Norton in it. And I thought extension-like conflicts were gone with OS X.
Panther should incorporate a standard method for installing and removing applications. Software companies can brand this installer any way they want but the underlying logic, both from a technology and user experience standpoint, should be consistent. I understand that Unix is a complex operating system, but as a user of Apple I expect logical consistency. If I wanted to be looking for files thrown all over the place, I'd buy a Windows box.