What Panther Should Fix: Part One, Broken Windows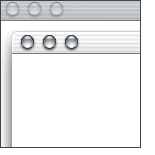 Windowing in OS X is inconsistent. In some applications the windows expand beyond the dock (e.g. Flash, Photoshop), while in others they do not (e.g. Word). Some applications allow windows to be dragged up above the menu bar (e.g. Photoshop), some don't (e.g. flash, word). In some applications, hitting command-h will hide the applications and in others it does not. And, finally, in some applications, hitting option while clicking on the desktop will hide the application; in others it doesn't.
While this appears to be a somewhat minor complaint, it is one of those aspects of the user experience that takes an operating system from being merely usable to enjoyable to use. With Panther Apple has the opportunity to make the windowing experience in OS X as consistent as it was in the legacy classic OS's. I would like to see windows in all applications behave the same way (and that includes the iApps as well, why should iMovie get rid of the dock while other applications do not?). Ideally, when I click on the maximize button, it should do what maximize does on the Windows platform—maximize the width and height of the available screen space abutting the dock. I realize that taking a cue from Windows may be somewhat sacrilegious but I have always felt this windowing experience is much cleaner. What do you think of the way windows work in OS X? What would you change? What would you keep the same?