What Panther Should Fix: Part Four, Duplicate Directories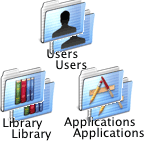 One of the most brilliant things about the original Macintosh operating system was its solid logic. The first time you saw this interface you immediately got the metaphor. Want to delete something, throw it in the trash. Want to save a file? Put it in your documents folder. And need to find an application? Look in the application folder.
OS X is ten, no, a hundred, no a thousand steps forward in terms of stability. But in terms of usability for the everyday user it is a few steps backward. Many of the so-called features of the underlying Unix engine of OS X are a great benefit to stability and power but can be crippling to the user experience. Perhaps the great example of this is the lack of a single user environment. If I?m working on my home machine why on earth should I need to give permission every time I want to install an application? This usability annoyance pales in comparison to the greatest flaw in OS X that must be fixed in Panther?duplicate file structures.
The first time I looked at OS X I saw the higher level of the drive. It had a couple of things I was used to seeing, an Applications folder, Fonts folder, and a System folder and some items I had never seen before, a Library folder and a Users folder. Once I opened the Users folder and navigated to my user name I saw the Documents, Fonts, and Library folder duplicated. This made no sense to me. Any Macintosh I had used up until then had one documents folder not two!
This all made sense to me once I understood that the power of OS X was that it could be used my multiple users on one machine, each having their own place to store things and a shared location for certain items. I also know this is a very simple thing to understand and get over. But the Macintosh user interface historically has always held ease of use up to a very high standard. The fact is that for a novice computer user this file structure makes absolutely no sense. It reeks of a Windows approach to usability?the operating system driving how the user interface functions. Apple needs to introduce a single user option with Panther. Scrap the user folder and the rampant permissions problems for those many computer users who are the only ones using their machine. I respect that the technology of Unix may make this difficult, even close to impossible to achieve but of all companies that should be able to innovate for the user Apple is the one.