Review: Primera's Bravo Disc Publisher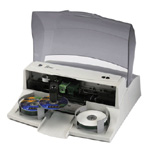 The term "burning a CD" has now rooted itself into the lexicon of computer users everywhere. (Remember when it was just "save to disc?") CD media is now the standard when it comes to transferring or archiving large files, not to mention music and video. CD burners are now standard in all computers. But what happens when you want to burn multiple copies of the same thing? Well, if you have a single drive burner, you could insert them one at a time until you are finished. The second solution would be to send a master disc to a duplicator. And still you'd have no label. But now there is a third solution.
With Primera's Bravo Disc Publisher, you can have 25 discs burned and printed with the push of a button. Buy the optional "kiosk" feature and you can up that to 50 discs in a row. The Bravo is a conveniently sized machine that comes with a robotic arm, two 25-disc reservoir trays, a 2,400-by-1,200-dpi ink-jet printer, and a 4x DVD-R, 16x CD-R drive. It is reasonably quiet for a printer, and it requires both an available firewire and USB port. This could be problematic if you are using up a lot of your ports with other peripherals.
So why would you need something like this? Let's say you are a designer or photographer who wants to send out promotional CD portfolios to prospective client or employers. Maybe you are in a band and you want to mail out demos to record companies and radio stations. Or maybe you are one of those people that sends out CD mixes to friends and family for Christmas every year. I happen to fit all 3 of those scenarios but I decided to use it to make promo CD's for my radio station.
I unpacked the unit and set it up next to my other printers on my computer table. I then installed all of the standard software. The Bravo comes with 2 major pieces of software: Discus by Magic Mouse Productions and Discribe by Charismac Engineering. The Discus program is used to create designs to be printed directly onto the disc. Discribe is used to burn the data onto the CD.
The Discus program is very basic. Actually it was so basic that it was limiting. As a designer I already knew what I wanted my disc to look like. I just couldn't figure out how to do it in Discus. The good thing is it supports most file formats so I ended up producing it in Adobe Illustrator and importing it into the Discus program. In the end I was somewhat surprised that this type of program would be included in a product that is primarily Pro-Am level.
The Discribe program was adequate in that it got the job done, but I certainly did not feel as secure as burning with Toast or even the built-in Apple burning software.
I loaded 25 discs into the right tray and pushed the burn button. In a few seconds the robotic arm swung from its "at rest" position and picked up the first CD. It then carried it over to the open burner tray and dropped it in. The tray shut and burned the disc. The tray then reopened, and the robotic arm picked it up again and lifted it and dropped it onto the printer tray. The printer tray closed and the inkjet printer printed the disc quickly and reliably. The colors in the printing were brilliant and the ink was fast-drying. The arm then picked up the disc again and dropped it into the empty left tray. This repeated 25 times until the once-full tray on the right was empty and the tray on the left was full. Total time for 25 printed and burned discs was 1 hour and 25 minutes. My only disappointment was that the plastic lid that covers the mechanism is a dark blue so I could not clearly see the grace and precision of the robotic arm.
This product was a joy to review. The software is remedial but adequate. With a retail price of $1995 (an upgrade model that burns DVDs retails at $2495), this is perfect for small businesses or consumers who have the frequent need for disc production. The convenience and reliability will allow this unit to pay for itself very quickly.