iPod Envy: Dealing With The idea That You Can't Have It All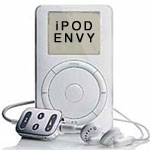 With the introduction of the new iPods last week, Iíve joined the group of people who are angry that they bought their iPods late last year. "If I had only waited," I think to myself. "If I only held out for the new ones" I mutter under my breath every time I go to Apple.com to drool. In fact, I have lost so much sleep over the last week due to this iPod envy that it is starting to affect the way I look at my iPod. This iPod, a mere 20GB of my music, the trusty ancient thing that got me through the late 2002's and rung in the new year by my side. My trusty musical companion, the one I lusted over last year at this time in much the same way I am lusting now. This is my Old Skool iPod, and I am being unfair to it.
Sure, it is part of human nature to always want the newest and greatest. After all, this new generation of iPod addresses every problem I had with the first ones. (See my article, "Wake Up Apple! The iPod isn't Finished") These new iPods have come with a dock for Palm Pilot's sake! They have on-the-fly playlists! And for all that is holy in this world, they have red illuminated controls! I'm getting teary just thinking about it. They are slimmer, sleeker, and they cost the same for more hard drive space.
Apple has done it againójust when I feel that I am on the cutting edge, they come up with something better to make me feel inferior to the next guy with money to burn. Well, I have had it, Apple. I love the new one's but I just can't afford to be the Joneses anymore.
So, instead of feeling sorry for myself, I am going to embrace my iPod, the one that started it all for me: my Old Skool iPod. Yes, my iPod that stood by me through 7 hard months of commuting will continue to be by my side. Instead of seeing a clunkier, uglier iPod, I will see a powerful handheld that warms my hand with every spin of the hard drive. I will create playlists the old-fashioned way by setting them up on my computer. I will embrace the firewire cover that has provided months of protection from the elements. I will play Brick without giving a second thought to solitaire and parachute. I will use my watch as an alarm clock, and gosh darn it, I will keep my notes for my Palm Pilot.
I refuse to let my mind dream of "what ifs" and "maybe's". It felt like I was cheating on my iPod and I owe it more respect than I have been giving it. I think my mid-iLife crisis is over. I hereby pledge sole allegiance to the original, my Old Skool iPod.